Minimum Recommended Greenhouse Covering Size: 28' x 28'
Ample Recommended Greenhouse Covering Size: 30' x 30'
The 1" PVC struts are 4' 5" to 5' long, and the PVC pipes are moderately stiff at this length. If you drag the dome across the ground, it does flex slightly along the leading edge.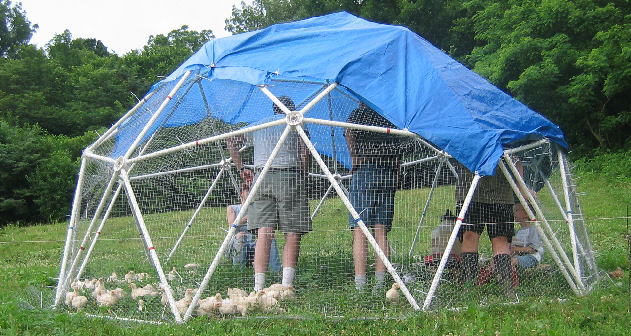 16' Geodesic Dome (PVC) used as a movable chicken coop.
This size dome makes a very good frame for a moveable chicken coop, or for a small greenhouse.
As a chicken coop, it can handle 50 chickens very easily if it is moved at least once a day.
The chicken wire is easily attached to the Dome Struts by... you guessed it.. Zip Ties.
The dome can be assembled by one person in about 2 hours, using an 8' stepladder. No other tools are required.